We live in a high-speed world. We multitask at work because we have more projects to complete. The internet is getting faster and faster. With a click of the mouse we buy a product from Amazon and expect the same day delivery because we are all in a hurry. 
Not all industries can keep up with this fast-paced world, however. One of these industries is the disinfectant industry, which is further affected by new disinfection protocols and delays related to the COVID-19 pandemic.
Chemical disinfectants are the most known and used products. Companies need to purchase a variety of chemical products. Next, they need to hire cleaners who have to clean, and then spend additional time disinfecting surfaces that carry millions of bacteria and viruses. The whole process is time-consuming and costly, too. In addition, chemical disinfectants often release harmful chemicals like toxic chlorine gas which can trigger breathing difficulties, vomiting, blurry vision and even fluid build up in the lungs and asthma. 1.[R]
One study conducted in a hospital reported that over 62% of the participants who were exposed to glutaraldehyde and other disinfectant preparations suffered from one or more of the following symptoms: sneezing, headaches, watery eyes, skin rashes and chronic cough. 2.[R]
For this reason, many people are turning now to eco-friendly chemical disinfectants and ultraviolet disinfection.
Ultraviolet disinfection offers a great alternative to harsh chemical disinfectants. It has been around for 100 years, and is gaining more and more popularity for a few good reasons. Compared to chemical methods, UV light treatment works fast, is very reliable, cost effective and environmentally friendly. All PXL products are based on an advanced form of ultraviolet C technology called Pulsed Xenon UV light which effectively kills or inactivates a wide range of bacteria, viruses, and other microbes. UV light is also safe, providing the safety instructions are followed. It is important to know that UVC light is designed for disinfecting surfaces, water and air. Avoid skin or eye exposure to this form of light.
UV Disinfection Units
Do you need a UV disinfection unit for small items like keyboards, mice and remote controls? PXL Sanitizer is the answer. For larger items like containers and pallets, PXL UV chamber will help eliminate dangerous bacteria and viruses. The UV Chamber for disinfection can be customized based on your needs, as it is made up by smaller UV modules assembled together. In the picture below, the disinfection unit is made up of eight UV modules. Together, they will effectively disinfect the container that is placed inside the UV Chamber for disinfection.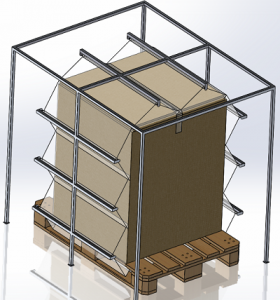 IZAK Scientific is pleased to offer two lines of PXL products.  The first line works at a regular speed of a pulsed xenon UVC light. What means "regular" speed? 30 seconds- a few minutes per area exposed to the light, depending on the microorganism. For example,the regular PXL Sanitizer had been tested by a third party laboratory for MRSA- a bacterium that can cause severe infections, including deaths. The results: "On a surface with 65,000 000 bacteria (MRSA), less than 1000 cells remained after 30 seconds of illumination with the PXL Sanitizer. After 5 minutes of illumination, only 6 cells remained. "
You may think that 30 second-5 minutes is fast enough. Great, you can choose this option when buying the PXL Sanitizer or the UV Chamber.
But be aware that IZAK Scientific has a faster option. How fast you may ask.  This product works 30 times FASTER!
Yes, the Fast PXL Sanitizer and Fast PXL UV Chamber are doing the same work compared with the Regular PXL Sanitizer and UV Chamber, but 30 times faster.
Would you like to get more details about PXL products? Email us today.