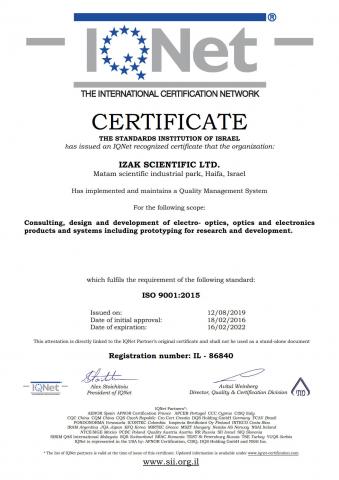 We're delighted to announce our electro-optics consulting practice, Izak Scientific, is now ISO90001 certified. This certification was awarded post an audit by the Standard Institue of Israek SII, confirming that IZAK Scientific upholds recognized standards in consulting, designing and developing elctro-optics, optics, and electronic products/systems including prototyping for R&D. 
SII is a leading certification body in Israel, operating under the not-for-profit SII umbrella.  With over ten years of experience certifying organizations, and themselves accredited, we are honored to be conferred this status by QCD. The ISO9001 certification was awarded in association with the Standards Institution of Israel, IQNet, and ANAB. 
We will strive to uphold the same quality in all our future projects. To learn more about Izak Scientific, or work with us on a project, please contact us.
מדיניות האיכות בחברת איזק סיינטיפיק ​
הננו מחוייבים לקיום תהליכי פיתוח והרכבת דגמים למחקר ופיתוח המבוססים על  קשב ומענה לצרכי לקוחותינו ולשווקים בהם אנו פועלים.  הננו מחוייבים לעקרונות של  מצויינות, קידמה טכנולוגית  ושיפור מתמיד באיכות, באפקטיביות וביעילות התהליכים לשביעות רצונם המלאה של לקוחותינו ובכפיפות לדרישות חוק ותקינה הישימים לפעילויותנו